Citroen 2CV Image gallery
Photos were taken at the 10th international meeting of 2cv friends was held 28th Jul-2nd Aug 1993 in Nurmes, Finland. 2864 persons and 1103 CitroČn 2cv's or derivatives from all over the world arrived to spend time together.
Photos were taken by Ms. Heidi Reilander, the president of a local 2cv club here in Turku, Finland and scanned by Kimmi Erola. All the pictures are 1024*768/24-bit.
Most of the photos were taken in Nurmes campingsite; some were taken in Turku, startingpoint of the 'Raid Nurmes'-tour.
For further information feel free to email to kimerola@utu.fiKimmi Erola or Heidi heidirei@utu.fi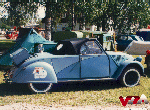 Homemade 2-seater cabriolet.
2cv with the late 30's Traction Avant bonnet and grille.
'Paris-Dakar'-style late 60's Dyane. Notice early type door handles.
Swissmade funcar. Notice the miniature size canvas top!
French 'mobilehome'. This car has Mehari 4x4-transmission.
1963 twin-engined 4x4 Sahara. Total production is said to have been 694 (1959-67); this one of the two in Finland is fully restored.
---
Go back to my main page.
---
Copyright April 1995.

Paul Negyesi npaul@hu.inter.net

I'm no way related to this company or their products. I have no responsibility for the accuracy of the above info. This document or parts of it cannot be used for commercial purposes.