This British kit car maker was founded in 1981. It was bought by Rob Budd, a former trial motorcyclist in around 1989. He expanded the range of cars and upgraded the existed models. Eagle ceased making kits in 1996.
SS
This car was developed in the States from a British car, the Nova) and Eagle started to build it under licence in 1981.
P21 The P21 and P25 accept all the mechanical components from the Ford Escort range (Mk I and Mk II) and they were updated Dutton Phaetons
Eagle off-roader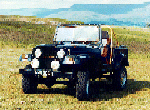 Eagle off-roader
The Egle 4x4 is based on the Range Rover donor mechanicals. The Eagle RV Series II Jeep can be based on either the Ford Cortina Mk III or IV mechanicals or using the Beetle floor pan. The Ford option is built on a massive steel ladder frame chassise whilst the GRP body has returned edges and built-in wheel spats.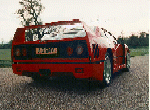 Stendetto
The company's last model, which resembled the Ferrari F40 on Pontiac Fiero base.
---
© December, 1995-1999
Pal Negyesi
---
© and Copy, 1996-1998:

Pal Negyesi npaul@hu.inter.net