I visited Intermeccanica in the summer of 1995 and found it a relatively small place containing, among the machinery and equipment, several quality automobiles in various stages of construction and some expensively-looking components.
This curtained-off section of the shop, located at the back, houses the jigs on which each fibreglass body and frame/chassis (epoxy painted and rust-proofed) are attached. The shell visible in this picture is what it appears, it is for a replica of the VW Kubelwagen which the firm has just begun producing. Naturally it is mounted on a chassis designed in-house and is made to the usual high standards of Intermeccanica.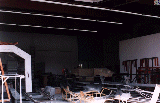 The bodies are painted with Glasurit acrylic urethane non-metallic or the optional metallic clear and pearl coat in this section. Then they are wet sanded and polished for about 60 hours. But before being painted, each body (including doors, hood, etc., of course) and frame/chassis are heated in an oven and thus become one monocoque unit.
Here, somewhere in the main premisses where all the components are fitted to each body/chassis monocoque unit, the VDO-instrument-equipped close-to-completion dashboard can be clearly seen. The leather steering wheel (a wooden one is also available) comes from Nardi and the grab-handle is a neat option.
Testing out the optional fog lights?
Peering under the front wheel well one can find the dual circuit disc (drum at rear, disc optional) brakes and the trailing arms and and torsion bars comprising the independent suspension.
The optional Porsche 356 A style bumper overriders and guards visible on this particular example are one of the more pricey propositions at over $2000.
I spent a long time staring at this metallic-silver example, also pictured above. It is extremely beautiful and is most likely going to spend its life in Japan, where over 50% are exported each year. One can be easily fooled into thinking that the body is made from metal but it is really glassfibre.

Both the Roadster 356/RS and Roadster Turbo are powered by a 72bhp 1600cc dual-port Volkswagen-sourced motor with a 4-speed manual transmission. A 3-speed Borg-Warner transmission and a 87bhp 1600cc Super 90 or a 140bhp 2200cc high-performance engine are optional. As mentioned earlier, the chassis is a box section steel tube perimeter frame with side members. Alterations to the rear suspension crossmember allows the engine and transmission to be mounted a few centimetres more forward than on the original 356, improving handling substantialy. More and more improvements over the original Porsche are constantly being made due to Henry and Frank Reisner's belief that current technology should be employed to make driving these awesome roadsters an even greater pleasure.
---
For more up to date information, contact Intermeccanica at:
Intermeccanica International Inc.
150 East First Avenue
Vancouver, B.C.
Canada
V5T 1A4

Telephone: (604)872-4747
Fax.: (604)877-1533
---