Sunbeam Alpine Clubs
This page lists worldwide Sunbeam Alpine Clubs.

Last updated: April 24, 1998

Send club info to T.J. Higgins (tjhiggin@ingr.com).
---
Sunbeam Alpine Owners Club (SOAC)
1000 members worldwide

PO Box 226
Grimsby
N.E. Lincolnshire
England
DN37 0GG

Annual dues are 12 Pounds Sterling

Club magazine The Alpine Horn (50 A5 pages) published every two months. For more information e-mail Andrew Austerfield on Oscar@team17.com.
Updated: 01/24/98
---

Rootes Car Club Sweden
CONTACT:
BENGT-ERIC ERICSSON
STRETEREDSV 85 S-43050 KELLERED
SWEDEN

Updated: 3/8/95
---
SUNBEAM OWNERS CLUB NEW SOUTH WALES (SOC NSW)
P.O. BOX 370
EPPING
N.S.W.
2121
PETER THOMSON
011-61-419-5774

Updated: 3/7/95
---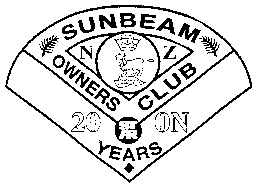 SUNBEAM OWNERS CLUB OF NEW ZEALAND (SOC NZ)
P.O. BOX 10 031, Dominion Road
Auckland
New Zealand

Noel Osborne, Secretary
011-64-09-267-3547

Updated: 03/12/98
---
Sunbeam Owner's Group of San Diego (SOG SD)
Membership:
"Ole" Olson
2250 Rosecrans Street
San Diego, CA 92106
$20.00 per year

Updated: 4/24/98
---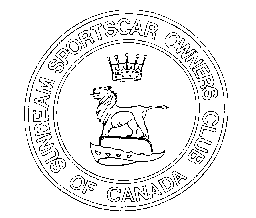 SUNBEAM SPORTSCAR OWNERS CLUB OF CANADA (SSOCC)
MEMBERSHIP:
P.O. BOX 483
WILLOWDALE `A'
ONTARIO
CANADA
M2N 5T1
BILL MATSON 416-960-4770
FRED PARLEE 905-628-5937

Updated: 3/7/95
---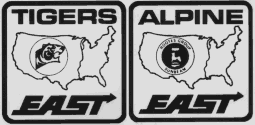 Tigers East/Alpines East (TE/AE)
Steven Kim
Membership Chairman
1203 17th Ave. S. #5
Nashville, TN 37212-2829
e-mail: steven.s.kim@vanderbilt.edu
(615) 320-3622

Dues are $26 per year. Make checks payable to TE/AE.

The largest Sunbeam club in North America with 800+ members. Excellent 15 page monthly newsletter with tech tips, member profiles, cars and parts for sale, vendor ads, regional and national events, etc. Members receive our roster (invaluable for making contact for technical assistance, parts, etc), can purchase our exclusive Sunbeam Survivor tech tip guide and Sunbeam regalia, get discounted fees for events, and special discounts on the full color Sunbeam calendar we produce.

TE/AE web page
Updated: 6/24/97
---
Pacific Tiger Club (PTC)
Membership:
Dick Sanders
4856 Fauntleroy Way SW
Seattle, WA 98116
206-938-8164
E-MAIL: dsand95510@aol.com
Annual Dues: $27/yr.

Updated: 6/15/95
---
Sunbeam Owners' Club of Queensland
9 Moorhouse Street
Bald Hills QLD 4036
Australia

Kevin Elliott +61-7-3261 1841
or email: Russell Maddock

Updated: 3/25/97
---
Sunbeam Club Deutschland

95 members in Germany and Switzerland

Lothar Ditter, President
Amselweg 19
D-79206 Breisach
e-mail: bditter@aol.com

Updated: 01/26/98
---
The Imp Club

membership secretaries:
Ivan and Gilly Philpot
31 Abbey Road
Far Cotton
Northampton NN4 9EY
tel: +44-(0)1604-705747

1500 members worldwide
Caters for all Hillman, Sunbeam, Singer, Commer Imp and variants, as well as Ginetta G15, Clan Crusader, Bond 875 and other kit cars based on the Hillman Imp floorpan and engine.
Overseas contact for Holland
Bert Clewits
G.P.Duuringlaan 40A
7339 BV Apeldoorn
tel +31-(0)55-5331601
E-mail: nyclewit@nyhp03.serigate.philips.nl

Updated: 11/19/96
---
Vancouver Island Tiger Alpine Club (VITAC)
P.O.Box 8865
Victoria, B.C. Canada V8W 3J2

Contact person: Frank Csordas - Club President

Full Voting membership: $25.00 Can. per year

Associate membership: $ 15.00 Can. per year

VITAC web page

Updated: 6/20/97
---
California Association of Tiger Owners (CAT)
Bonnie Mueller
18771 Paseo Picasso
Irvine CA 92715
Dues:his/hers $27.00-single $25.00-$35.00 european and other foreign. Canadian $27.00.
Operates CAT Parts, an extensive supply facility with some innovative products.

Updated: 11/19/96
---
Sunbeam Tiger Owners Association (STOA)
Laura Ettinger
3505 Sierra Rd.
San Jose CA 95132
Dues: $27.00/$36.00 international
Operates Tiger Authentication Committee-verifying a vehicle's production at the Jensen plant.

Updated: 11/19/96
---
Rootes Club Nederland

The ROOTES CLUB NEDERLAND is the Dutch club for owners of all (pre/post) ROOTES cars.
Membership fee Dfl. 60,-- per year.
Entrance fee for new members Dfl 25,-- (contribution for ROOTES Vademecum)
Clubmagazine Correspondence appears 4 times a year.
We organize several meetings including technical days in fully equipped garage.

Information: Postbus 679, 3500 AR Utrecht
or Email: ROOTES.CLUB@PI.NET

Updated: 05/27/97
---
Sunbeam Club De France

Open to all Sunbeam and Rootes cars.

111 Avenue du Colonel FABIEN
93230 Romainville
FRANCE

Email: Sunbeam-club-france@mailcity.com

Updated: 01/24/98
---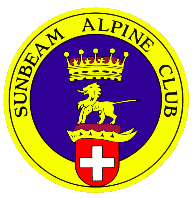 Sunbeam Alpine Club Of Switzerland

Walther Huber (speaks Swiss-German only, no English)
phone: +41 (1) 491 08 29
fax: +41 (1) 491 08 92

Eddy Appenzeller (English or German)
phone/fax: +41-1-9292846
email: asd.appenzeller@bluewin.ch

Updated: 04/24/98
---
Your Club Here.
Send club info to tjhiggin@ingr.com.
---
Back to the Alpines page.